Category Archives:
Website
June 2023 Updates
Congratulations to all of the recent scholarship and award recipients! We received many fantastic nomination applications, which speaks volumes about the amazing counselors, leaders, and students we enjoy working alongside daily!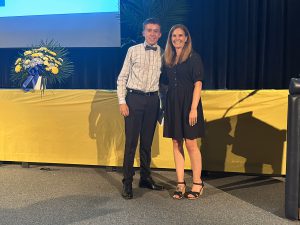 Caption: Pictured above is NCA's very own President, Meghan Schlosser, presenting the Joseph Bruzzese High School Scholarship to one of her students at Baldwin
High School, CJ Cascio. …
September 2021   
As someone who has been in the school counseling industry for over 30 years (on both sides of the high school and college desk), it is my pleasure to serve you as President for the next two years and to introduce you to Nassau Counselors' Association! 
A decision to become a member of this long-standing membership organization (est. 1955) allows you access to the best practices of our counseling industry through high quality professional development. College Expos and NCA sponsored programs provide students information to help them become college and career ready.  Your membership dues support well-deserved high school students and graduate students in counseling programs with a number of scholarships. …