Date: October 23, 2018
Time: 3:30 pm - 7:30 pm
Location: Jericho Terrace
Details: $10 Members, $40 Non-Members (includes membership fee)
Presentation:"Opioids and Beyond: Responding To The Emergent Needs Of Children & Families" Presented by Dr. Jeffrey Reynolds, President & CEO of Family and Children's Association

Please RSVP by Monday October 15th, space is limited and there is no on-site registration.
This event is proudly sponsored by Molloy College.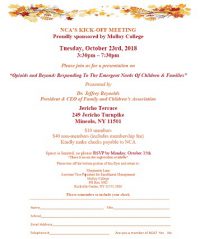 Held each fall, this event marks the first official meeting of academic year for all NCA members. Typically co-sponsored by a local college, guest speakers are brought in to discuss topics of interest to the membership.
For More Information about this event, please contact:
Marguerite Lane
mlane@molloy.edu